Standalone video surveillance trailer for the cities of Solidbot
The easiest and fastest way to deploy a monitoring solution for cities, event and other sensitive places .
The Solidbot video surveillance trailer for cities , events and sensitive locations is the perfect solution to quickly and easily deploy a video surveillance solution allowing police and law enforcement to view live and / or recorded all sensitive areas requiring special protection.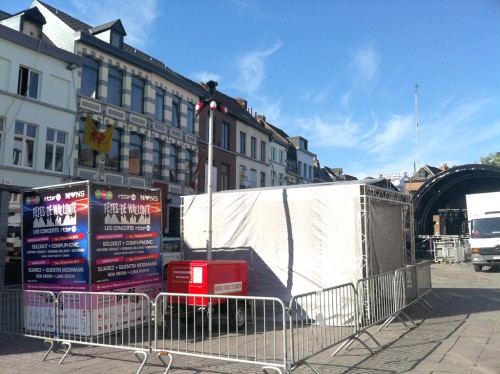 A video surveillance solution for cities, events and sensitive places completely autonomous and installed in less than 5 minutes.
Solidbot standalone video surveillance trailers do not require any external power or network infrastructure. Their clever , lightweight design integrated with a trailer allows them to be placed at the place that is best in less than 5 minutes.
Their unique, patented stabilization system allows them to provide unmatched stability while being towed by any vehicle equipped with a towing hook.
Their mast deployable over 5 meters, their rotating high definition camera and their powerful zoom always possible to find the best viewing angle and this whatever the distance day and night.
Thanks to their embedded intelligence solutions allow to be completely monitored remotely and be integrated on any VMS and on any authorized and pre-configured for this device.
Thanks to the integration of all network technologies : 3G / 4G , long range WiFi, satellite or a combination of these technologies, the connection can be provided for all locations.
Finally, the cities and events monitoring solution being completely created and built by Solidbot , the company can easily convert it to use any camera, intelligence or other embedded system so that the solution meets the needs of the least ground.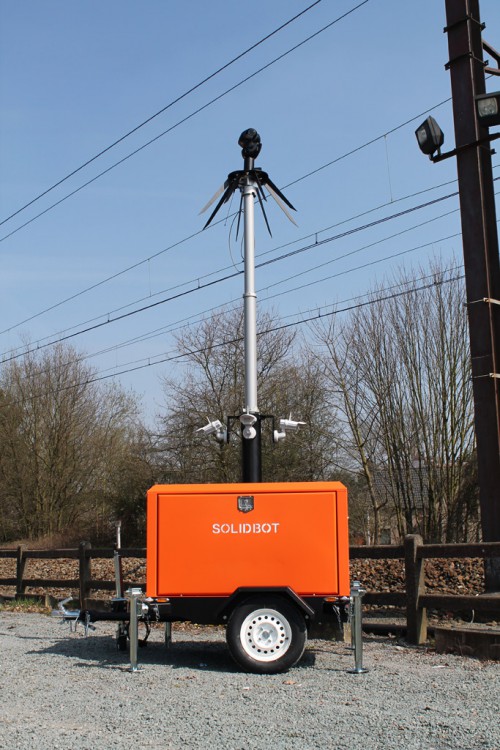 A security solution , emergency contact point and remote control ...
Besides being the easiest and fast solution on the market to monitor cities and events , the solution also provides :

24/7 access via smartphone or tablet .
All the images can be recorded on the most powerful surveillance software market , the solution can provide access to real-time images and / or differre to all authorized persons from any smartphone or tablet configured for this effect.
Establish a contact point for all emergency situations
The solution can be equipped with its unique solution of clearly identifiable panic button on the Solidbot as a point of contact for emergency situations.
Any person using the button is put directly in communication with the determined control station and / or any preconfigured phone number.
The manager can communicate in a clear and distinct manner thanks to a high-performance solution integrated microphone and speaker .
If the situation requires it, the manager can take control of the camera to directly observe what happens there.
Enjoy a high-performance alarm system
All Solidbot solutions allow use of remote alarms solutions related to wireless motion sensors can be placed in a 1 km radius around the Solidbot .
The alarm solutions are based on embedded intelligence of solidbot , wireless detectors can be activated independently of each other and offer all kinds of warnings via sms, emails, notifications on smartphone and / or direct connection to a central monitoring.
Extra light standalone solution if necessary
In addition to the integrated infrared solutions , all Solidbot solutions can take advantage of powerful spots directional LEDs providing visibility to 100 meters.
These solutions are directly connected to the electrical systems of Solidbot , they require no external power and can ensure visibility even in case of total failure of the local electrical sytem .
Access control to control and keep all the comings and goings
The solution can be equipped with badge readers can communicate with the openings of solutions doors or electric fences to provide access to authorized persons.
The set of access are stored remotely and may be connected to a video verification .
To enjoy a recording solution , remote monitoring and control of your various power tools
Save and check anytime all the telemetry data that you would follow (temperature, fuel level, ignition lights … ) .
Turn your various electrical systems remotely and check visually that everything works as desired.
Develop the solution that perfectly meets your needs .
All solutions developed by solidbot being fully created , developed and built in-house, we can easily meet all the demands of implementation of specific solutions as hardware, software or interoperability with different external systems.
Our team of security engineers , network, electronics and IT is at your service with you to find the solution that will best suit the needs of the field.
If you want more information on the cities monitoring solutions , events and sensitive places, do not hesitate to contact us by clicking below: